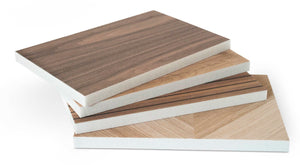 Vaimee® Natural Cover™ series
When appearance is everything, without compromise on absorption
Natural Cover™ products are designed with a pure, natural and eye-catching appearance that come directly from nature. This product creates beautiful and natural surfaces with acoustic properties.
The product line provides completely new possibilities for eliminating echo – aesthetically. These products are so gorgeous and easy to install that they can be used even in spaces where acoustics is not a huge problem.
Versatile use
With Natural Cover™ acoustic boards, you can create
entire walls and ceilings
large board elements and eye-catchers
use smaller boards to create beautiful art
Wood-patterned acoustic boards
The style of wood-patterned acoustic boards is based on Hollolan Viilu's and Laminaatti Oy's best veneer patterns..
efficient sound-absorption
dimension 600 x 600 x 24 (mm)
weight 1,2 kg
made out of recycled water bottles
dyed-through material
can be cut and painted
shockproof
odourless M1 Indoor air classified material
Prices
List price 99€ / one-piece