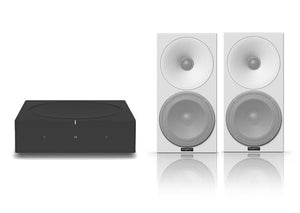 Amphion Helium 510 together with Sonos Amp is a great package for making your television sound better. With this package you can also stream your favorite music wirelessly.
Amphion Helium 510 is a great natural and open sounding speaker with tight bass. Sonos Amp is an ideal partner for television as it has the HDMI Arc connection so you can control the volume with you tv remote. For Apple users there is also the Airplay 2.
Please note that the colour for Sonos Amp is always black. The loudspeakers come as a pair in this bundle package.