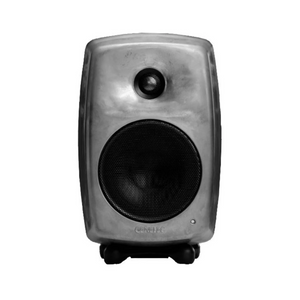 Genelec G Three is a perfect speaker for enjoying music, watching movies, for studios and for games. Suddenly you'll start to hear the finest nuances of a musical performance, and really experience the power, excitement and emotion of your favourite movies and games. G Three is easy to adapt to your acoustic environment using the room compensation switches.
The G Three RAW offers an exceptional sounding, aesthetically beautiful loudspeaker that are kinder to the planet.
Technical Specifications
Amplifier Power
50W Bass (Class D) + 50W Treble (Class D)
Frequency Response
47 Hz - 25 kHz (-6dB)
Accuracy of Frequency Response
± 2.5 dB (54 Hz - 20 kHz)
Driver Dimensions
⌀ 130 mm Bass + ⌀ 19 mm Treble 
Dimensions
H 299 x W 189 x D 178 mm, with Iso-Pod™ 
Connections
1 x RCA Analog Input
1 x XLR Analog Input
KEY TECHNOLOGIES
Active Crossovers
Directivity Control Waveguide (DCW™) Technology
Intelligent Signal Sensing (ISS™) Technology
Iso-Pod™ Stand
Minimum Diffraction Enclosure (MDE™) Technology
Optimized Amplifiers
Protection Circuitry
Reflex Port Design
Room Response Compensation
Versatile Mountings
Price for one piece!